Every purchase of an item of alpaca wool from the Rugged Andes Trading Company supports families of artisans in the mountain areas of South America. No animals are ever harmed during the manufacture of our products.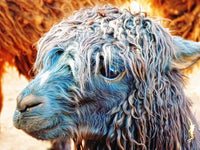 Why alpaca wool?
The gentlest and most elegant members of the camel family, alpacas were domesticated 6,000 years ago in modern-day Peru and Bolivia. With their charming personalities and comical behavior, everybody that meets an alpaca falls in love.
Alpaca wool is comparable to cashmere in softness, warmer and lighter than sheep wool, hypoallergenic, durable, odor resistant, natural, wrinkle-free, and environmentally friendly.
Click here if you're curious to know more.
About the Company
Our dream is to bring an authentic piece of the Andes home to our friends in North America. Click here to learn more about what we do.